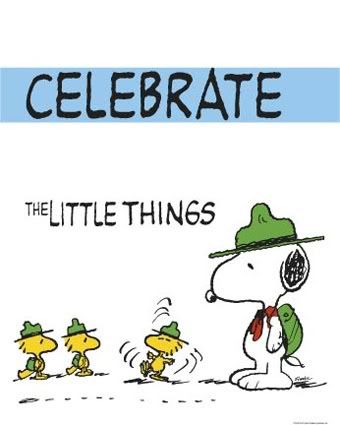 Good morning, sweet friends! Have you ever felt like your plate was running over? This is one of those weeks for me! How about you?
I know the picture says "Celebrate Little Things" but I've got some big things coming up and I wanted to share it with you (I just couldn't resist that cute picture).
You see, I know you girls are prayer warriors, so while, I thought I'd give you a little update on my schedule, I'm also sending out a bit of a prayer request at the same time.
I also know you sweet things have a lot on your plate too, so I'll keep it brief.
This evening at 6 p.m. EST, I'll be a guest on Speak Up with host, Scott McCausey. It's a call in program, so I'd love to hear from you!
Here's the link: http://www.blogtalkradio.com/christian-devotions

The call in number is: (347) 884-9367
Friday, I'll be appearing on Atlanta Live at 7 p.m. EST. If you're not in the Atlanta area, you can watch it live on the internet. Our friends, Bryan and Renee Lamoureux will be appearing as the music guests. They are over-the-top singers/songwriters and worship leaders and I know you're going to love them!
Here's the link for the show: http://www.watc.tv/index.htm

Here's Bryan and Renee's link (you can listen to songs from their latest cd there): http://www.bryanandrenee.net
Many of you know that I write with a team of women called Scripture Dig. This month, we're walking through the book of Ruth and it's been very eye opening! Our study of Ruth is not the typical verse by verse journey. We're looking at the concepts found in Ruth and it's been an exciting study.
On Friday, I'll be writing for Scripture Dig about Naomi's Journey Home. There are so many spiritual parallels to her whole story and her journey home is no exception! I think you might be surprised what these women went through to take the trek from Moab to Bethlehem. I hope you'll pop in, join our study of Ruth and say hi!
I know we've been taking our own journey through Philippians, but I know you'll love Ruth, as well!
Here's the link: http://www.scripturedig.com
You have no idea how grateful I am for each one of you! Your life blesses mine! I am uber thankful for your prayers, as well!
The Lord is quickly filling up my speaking schedule for 2011 and I'm thankful for every opportunity to share Him, His Word, His ways, His goodness, His mercy, His grace, His faithfulness, His holiness, His righteousness and His glory whenever I can!
He is our all in all!
"Yes, LORD, walking in the way of your laws,
we wait for you;
your name and renown
are the desire of our hearts." Isaiah 26:8
"Our Redeemer—the LORD Almighty is his name—
is the Holy One of Israel." Isaiah 47:4
He is everything we need – He is all we need!