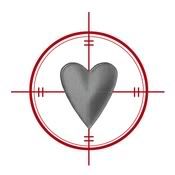 Good MONDAY morning, sweet friends! I hope you've had a fantabulous weekend! We were busy…like crazy busy…but loving it!
If you remember last week, we really began to do some digging into how to the Word of God helps us handle the spiritual warfare being waged against our future. I'm not sure if you saw the progression or the practicality of it all, but it's more than just casting down imaginations. It's more than taking our thoughts captive and praying. It's even more than just replacing the thoughts we have taken captive with a preplanned "Whatever List".
It's offensive – defensive – always ready – previously prepared – tangible – practical and biblical warfare in action!
The battle is raging on around us – constantly creating havoc in our hearts. But God has given us a strategic plan of engagement to defeat the onslaught of fiery darts determined to destroy us. The victory is found in the fact that God is greater than our biggest enemy, our greatest fear and our most aggresive attack.
There is peace in the promise that He gives us a way to win the war and begin making progress on our journey to becoming who we were created to be. The victory God offers is as real as the war we are in!
Every step we try to make to become women who understand we were born for such a time as this will be hindered and even halted unless we begin putting God's five-fold unified solution into practice.
Here's a look at what we've discovered:
1.  Make a list of your weaknesses and areas of lack.
2. Develop a plan to spend time in the Word and establish a list of Scriptures that combat your areas of need.
3. Make those verses (and the Word of God as a whole) your throught filter…that which you filter every wayward thought and fiery dart. Believe God's unchanging Word, not your random thoughts or the enemy's assaults on your heart and mind. Take each thought captive and then filter it through what you know to be true.
4. Take the time to write out your own "Whatever List" to replace the thoughts you take captive. Be a battle ready soldier as you arm yourself with the Word and with a list that fits the focus of Phil 4:8-9.
5. Target you prayers. Don't let your prayer life become random thoughts in frantically flung out attempts to alleviate your fears and failures in life. Be a proactive prayer warrior.
Your Bible study explains the process and necessity of targeting your prayers.
It works like this:
When there is a war going on in your heart and mind (whether it's from the enemy's attack, your own fleshly frailty or a real life-altering, world-shattering circumstance), you have the ability to intentionally direct your thoughts into targeted prayers.
Make your prayers all about others. Their needs. Their salvation. Their hurts, hopes and fears.
When each wayward thought and fiery dart is replaced with a very specific prayer for someone else, you are choosing to think and pray for others instead of dwelling on yourself.
Remember, you don't have to be held captive by the war that wages in your heart and mind. Don't allow your future to be jeapordized or your God-given destiny to be thwarted by a battle God has already given you the artillery to win.
I love the way the King James Version shows this principle at work in Job's life:
"And the LORD turned the captivity of Job, when he prayed for his friends: also the LORD gave Job twice as much as he had before." Job 42:10
What are some things on your "Whatever List"? Do you see how winning the war is a process and not an event?
LOVE this quote by Mary Kay Ash… "Make every day count, make every hour count, make every minute count. And don't stop until you have exercised your full potential, realized your impossible dream and fulfilled your total destiny to become the person that you and only you are capable of being."